Restore the Canopy with a Free Tree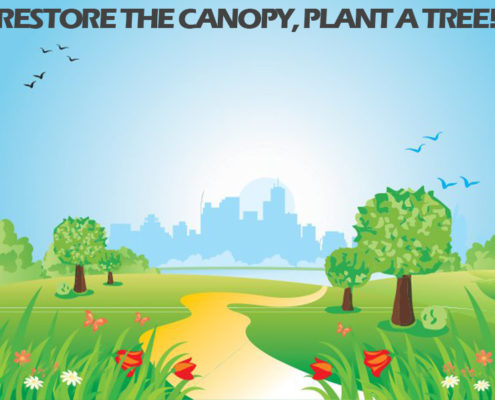 The MWRD launched a program in 2016 that will aid in managing stormwater and educating communities and schools on the value of the tree canopy that has been depleted over the last century. The "Restore the Canopy, Plant a Tree" initiative empowers the residents of Cook County with an opportunity to restore our region's tree canopy and reduce the chances of future flooding.
The MWRD is partnering with municipalities, schools, local agencies, community groups and other organizations interested in planting 18-inch oak saplings throughout the county.
Want more information DOWNLOAD the Brochure
The free saplings are available in individual pots or in bulk bags of 100 bare root saplings. Planting and care instructions, along with additional information regarding the benefits of trees, will be provided with each delivery. With advance notice, the saplings can be picked up at MWRD facilities or delivered.
The initiative can be especially useful to area schools, as the program offers teachers and students the opportunity to restore our region's depleted tree canopy through an educational experience that extends beyond the classroom. The saplings can be planted on school grounds or at students' homes as a way to educate students on how they can protect their environment and meet the MWRD's goals in stormwater management.
Not only do trees provide a beautiful green canopy for our communities, trees are a powerful and effective form of green infrastructure that reduces city heat island effects, absorbs carbon gases and produces oxygen. A medium-sized oak tree can help prevent flooding by absorbing 2,800 gallons of rainfall per year. Trees are also vital to our environment for many other reasons; they:
Reduce flooding
Reduce air pollution
Improve health and well-being
Keep neighborhoods cooler
Create a sense of community
Lower energy bills
Increase property value
Provide protection from wind
Buffer noise
Provide shade
Increase habitat for wildlife
Absorb carbon dioxide
Give oxygen
The tree population of the Chicago region has been decimated in recent years by emerald ash borer infestations and extreme weather. A reported 13 million trees in our region were lost due to the emerald ash borer devastation. The photo shows damage caused by emerald ash borers.
The MWRD distributes free trees every Wednesday from 9 a.m. to noon beginning April 5, 2017, at the following water reclamation plants:
Calumet (400 E. 130th St., Chicago)
Egan (550 S. Meacham Rd., Schaumburg)
Hanover Park (1220 Sycamore Ave., Hanover Park)
Kirie (701 West Oakton St., Des Plaines)
O'Brien (3500 Howard St., Skokie)
Stickney (6001 W. Pershing Rd., Cicero)